UNBC has publically released detailed numbers of what they've offered members of its institution in compensation during an ongoing labour dispute, which has left roughly 3,500 students without classes.
The employer's bargaining priorities are listed as:
Reach a modernized negotiated collective agreement addressing a broad range of topics, shared interests and, where possible, the parties' mutual interests
Improve the compensation structure for faculty
Make progress towards adjusting individual salaries as appropriate to fit the structure
Employer's offer highlights are listed as:
Compensation

Creates a new compensation model for faculty, built upon principles and competitive benchmark salaries established jointly by the Employer and FA
Closes the salary gap between our tenured and tenure-track faculty and the competitive benchmark salaries at our comparator universities by approximately 90 per cent in just one round of bargaining

An average salary increase of 15 per cent over three years for Tenured and Tenure-track Faculty
Annual Career Development Increment increased from $1,111 to $2,700
Recruit and retain outstanding teaching faculty

A new continuing career track for teaching-focused members (a new designation - Senior Instructors), reducing the need for repeating term appointments
A new Senior Lab Instructor Rank IV, creating additional career-growth opportunities for senior lab instructors
Funding beyond the provincial mandate of two per cent per year for three years can only be introduced by negotiating savings in the collective agreement
The employer cost and proposed approximately $1 million in savings in the collective agreement to further improve the compensation offer
With those savings, the university says Tenured and Tenure-track Faculty Members could see an average compensation increase of roughly 15 per cent over three years.
Specifically, that means a full-time professor could see an increase as high as 28 per cent, an associate professor could see a 22 per cent bump and assistant professors would be looking at a potential 18 per cent increase.
Senior lab instructors, librarians and part-time instructors would see an average increase of six per cent which is in line with the provincial mandate, according to UNBC.
The bump in compensation depends on individual rank and number of years in rank.
Below are tables showing exactly how the proposed payment increases would work.
"The Employer's efforts during this round of bargaining demonstrate a clear and undeniable commitment to UNBC's faculty," UNBC adds in their release. "It has proposed a compensation structure that not only recognizes the efforts and dedication of our current, long-serving faculty members, but also provides improved career progression for early-career faculty members."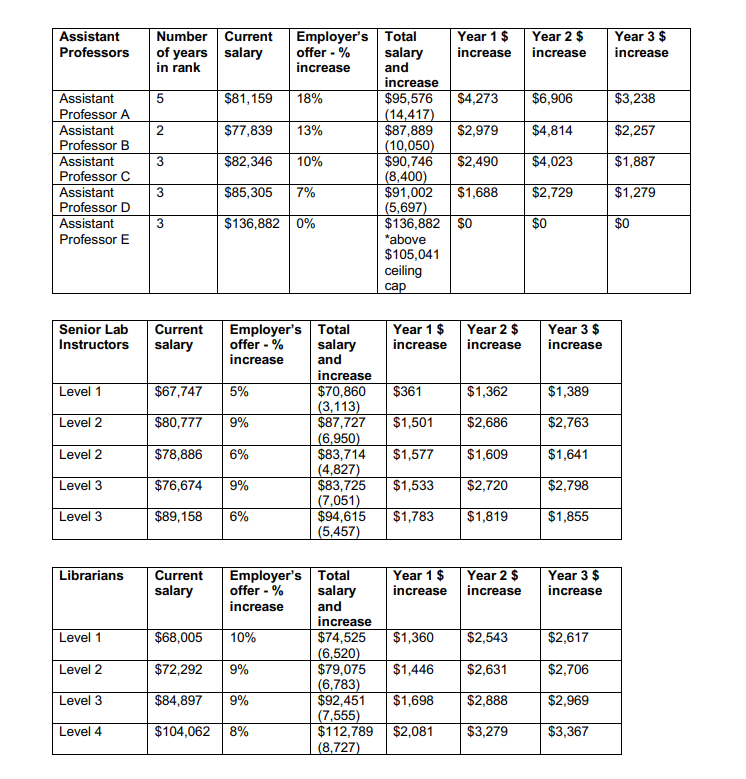 Salary increase breakdown. (via UNBC)